Taking on a roofing project is an admirable quest. We did some research for you to ensure you have all the information you need, and so you can save money on roofing services. Keep in mind all of the materials, safe practices, gear, and so much more.
Of course, the sure way to get a reliable roof replacement is to hire professionals. But we think we can offer the most relevant roofing advice for your DIY exploits.
Continue reading to learn everything you need to know about safely shingling your house!
Safety Equipment
There are several things to be prepared for when shingling your roof. Purchase a kit from a home supply store that will assist in preventing falls. It will include a harness and a rope, the rope needs an anchor site, and the harness will hold you to it.
Next, you must have durable shoes with a grip to ensure there is good traction as you walk around on the roof. Do not do this on a rainy day and check that the roof area is dry.
To ensure you have a safe environment to work in, sweep the roof of any debris, which helps avoid any tripping or slipping. Plan to carry materials on your shoulder for safety and ensure you have sufficient access points to the roof.
Necessary First Steps
To complete the roofing process safely. The first thing that you should do is have all the safety equipment. Preparation for your project could include looking into a starter course or watching videos online.
It is necessary to remove the current roof shingles, and when doing so nails can be left behind. The remaining nails that can't be removed, need to be hammered flat so they don't cause a snag. Spread tarps on the ground below to catch fallen nails or debris.
A Sturdy Ladder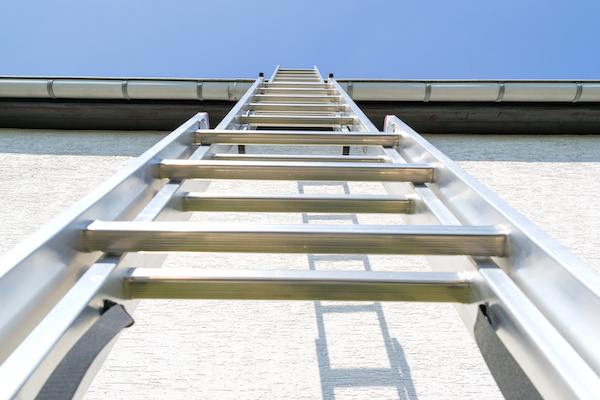 A good ladder is for more than just climbing up to your roof. It should be sturdy and in good enough condition that it can support you as you climb. Plus, the additional weight of materials is to be carried to the top of the roof.
Some tips make working with a ladder safe. Generally, you should extend it about three rungs above the edge of the roof for balance. The legs of the ladder should be on level ground. Most importantly, never stand or step on the first rung. If using an extension ladder ensure it is locked.
If you're uncomfortable on the ladder, consider tools that can hoist materials up to the roof. When carrying a load up the ladder, have someone at the top who can slide, pull and lift the materials to ensure your safety.
Below the Roof
Additional safety practices include what is going on below. As mentioned above, you want to have tarps and somewhere to toss old products. Avoid recklessly throwing old materials off the roof. Ensure there are not any cords, garbage, or objects that could interfere with the ladder.
Tool Safety
Staplers are used in roofing to hold down the underlayment when roofing. Underlayment is the material that goes on before the shingle for extra protection. While you should be generous with the number of staples, be mindful during the process.
Pay close attention to where you are nailing and ensure proper use of the tool. Gloves are a great help to ensure you won't injure a finger with the stapler. A nail gun is another necessary tool. To help avoid accidents, it is best to search the device for flaws before use.
Other helpful tools might include a truck to transport material loads and a good pair of work gloves. These will help protect your hands and materials as you go about your project.
How to Get Shingles on a Roof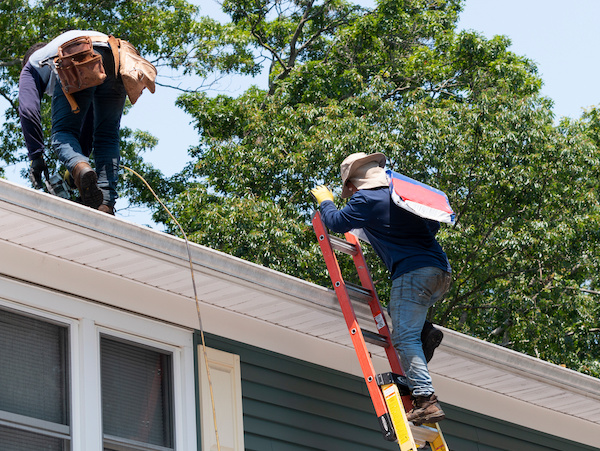 There is an entire method involved in roof shingles. So let's cover each step of the process. Keep these safety tips in mind throughout the project. The first step is to ensure you have all the roofing material and to stack your bundles.
You will need to measure the exterior walls and calculate the overhang at the eave to place the shingles accurately.
A bundle of shingles has anywhere from 15-29 shingles. Most roofs require more than three bundles and each bundle can stack on the roof ridge. A bundle or many bundles should be carried over the shoulder for safety. You only need one bundle or two bundles of extra material.
Once the old shingles and nails are gone, add underlayment onto the plywood before shingles. Roll the entire roof area starting from the bottom up. It is necessary to roll over the ridge twice.
You may have to tear off old underlayments to increase the quality of installation. This method is time-consuming, as it is difficult to be standing as you lift the underlayment off, and this requires careful work.
At this point, starter shingles are. A starter shingle differs from other things as they are longer horizontally and go around the eaves of a roof. Starter shingles are not seen but are necessary for protecting the roof edges from water and wind. They also must be secured around valleys and dormers.
Following this method, you can add roof deck protection. Fasteners will hold the deck protector in place.
Start at the bottom corner edge of the roof. This will build a method of installing the rest. Then you can begin to hammer the shingles. The nail is to be nailed about several inches inward from the edge of the shingle. Most shingles should have at least four nails and no more than six nails. This process may slightly differ if using architectural shingles.
In the final step, shingles should extend over the eaves, and then the excess is trimmed to lay flush with the home.
If you are working with a steep roof, you may want to hire roofing contractors, as roofers have more safety equipment and the necessary skills to do the job well.
Your New Roof
Now that you know how to safely get shingles on a roof, you can start on your roofing project. The cost is less expensive than using a roofing company as well. Remember, be safe, follow all instructions, and enjoy roofing your house.